Posts for: October, 2017
By Chestnut Dental Associates
October 26, 2017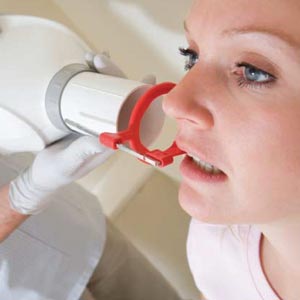 It's difficult to measure how x-ray imaging has transformed dentistry since its use became prominent a half century ago. As equipment and methods standardized, the technology revolutionized the way we diagnose tooth decay and other mouth-related issues.
One of the more useful of these methods is called the bitewing x-ray. The term comes from the shape of the device a patient holds between their teeth with the film attached on the side toward their tongue. We direct the x-ray beam to the outside of the patient's cheek, where it passes through the teeth to expose on the film. Its particular design provides clearer images since the patient's bite helps keep the film still and distortion-free, making it easier to view signs of early tooth decay.
Bitewing x-rays usually consist of four films, two on either side of the mouth, necessary to capture all of the teeth (children with smaller jaws, however, often only require one film per side). How frequently they're conducted depends on a number of factors, including the patient's age: children or young adolescents are usually filmed more frequently than adults, usually every six to twelve months. Frequency also depends on a patient's particular decay risk — the higher the risk the more frequent the x-ray.
Regardless of how often they're performed, a similar application principle applies with bitewing x-rays as with any other radiological method: As Low As Reasonably Achievable (ALARA). With the ALARA principle in other words, we're looking for that sweet spot where we're able to detect the earliest stages of dental disease with the least amount of radiation exposure.
Bitewings fit this principle well: a patient receives only a fraction of the radiation exposure from a four-film bitewing as they do from a daily dose of environmental radiation. Factor in new digital technology that reduces exposure rates and bitewings pose virtually no health risk to patients, especially if conducted in a prudent manner.
The benefits are well worth it. Thanks to bitewing x-rays we may be able to diagnose decay early and stop it before it causes you or your family member extensive tooth damage.
If you would like more information on the importance of x-rays in dentistry, please contact us or schedule an appointment for a consultation.
By Chestnut Dental Associates
October 11, 2017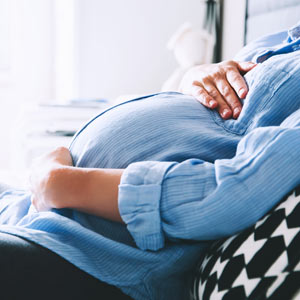 Learning you're pregnant can be a joyous moment. But it also means life is about to change as you focus on protecting you and your child from anything that endangers your health.
Because of these new concerns you might even hesitate about receiving dental care, especially involving anesthesia. But several medical organizations representing doctors, OB-GYN physicians and dentists wholeheartedly recommend continuing regular dental visits during pregnancy.
In fact, you should continue them because you're pregnant: physical and hormonal changes during pregnancy could increase your risk of dental disease.
For, example, your consumption of carbohydrates (like sugar) could increase, which in turn increases your risk of tooth decay. You'll also need to be more concerned about dental plaque, a thin bacterial film on your teeth that can cause disease. Hormonal changes during pregnancy may make you more sensitive to plaque, and thus more susceptible to disease — especially periodontal (gum) disease.
In fact, a specific form of gum disease called pregnancy gingivitis affects around 40% of expectant women at some point in their pregnancy. And if you already have gum disease, pregnancy could worsen it. Left untreated the disease could develop into more severe periodontitis, which may significantly damage your teeth's support structures far below the gum line, leading to bone loss, which could result in the eventual loss of your teeth. Daily brushing and flossing, regular cleanings and checkups and, if your dentist prescribes it, antibacterial mouth rinses can help you stay ahead of it.
But what about other procedures while you're pregnant? It may be best to wait on elective treatments for cosmetic purposes until after the baby is born. But some situations like deep tooth decay that could require a root canal treatment may become too serious to postpone.
Fortunately, several studies have shown it's safe for pregnant women to undergo many dental procedures including tooth fillings or extractions. And receiving local anesthesia doesn't appear to pose a danger either.
The important thing is to remain diligent with your own personal hygiene — brushing and flossing — and making other healthy choices like eating a nutritious diet. And be sure to let your dentist know about your pregnancy to help guide your dental treatment over the next few months.
If you would like more information on taking care of your teeth and gums during pregnancy, please contact us or schedule an appointment for a consultation.